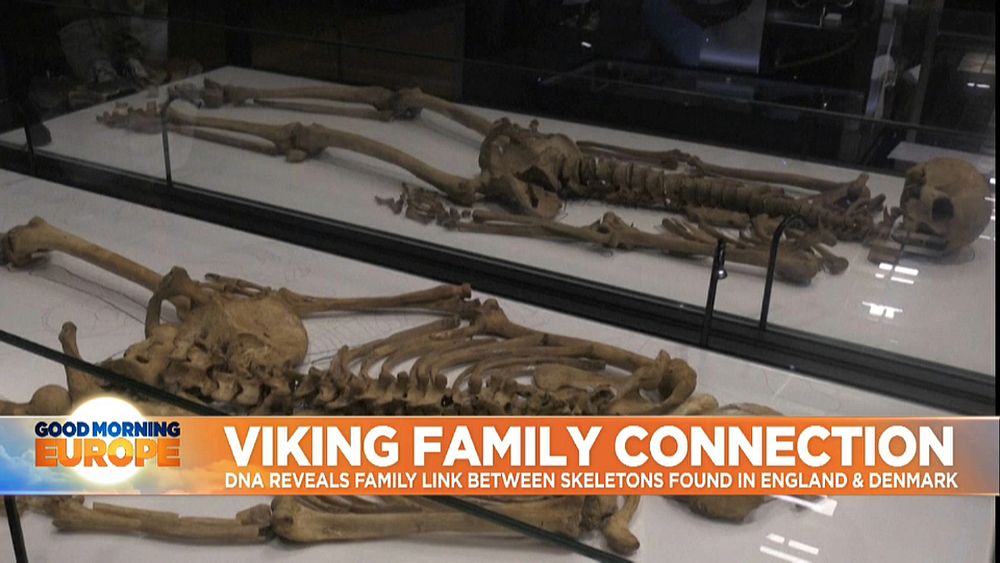 Two Viking-era males from the identical household have been reunited at Denmark's Nationwide Museum after 1000 years.
One of many Vikings died in England in his 20s within the eleventh century, from accidents to his head. The opposite died in Denmark in his 50s, with traces of blows which recommend he took half in battles.
Jeanette Varberg, an archaeologist with the Nationwide Museum in Copenhagen, says their matching DNA was discovered by probability.
"This younger man is a relative to a skeleton present in Denmark. In order that they died in Denmark and in England however now they're reunited within the exhibition for the primary time in a 1,000 years," she stated.
Archaeologists used DNA mapping to find out that the 2 have been associated.
Varberg stated regardless of the DNA assessments, it's not possible to find out their actual hyperlink. They could have been half-brothers, or a grandfather and grandson:
"As an archaeologist, you haven't any clue if the skeleton you might be excavating has any relations however new DNA know-how and analysis are making it attainable to find if two skeletons are kinfolk. It is a massive discovery," she stated.
The pair of skeletons will probably be displayed as a part of an exhibit titled "Togtet" – Danish for "The Raid" – that opens June 26 on the Nationwide Museum of Denmark.
From the yr 850 A.D, individuals from Denmark settled in England as farmers. King Aethelred II ordered the Danes – adults and kids – to be killed in 1002.
Watch Euronews' full report within the participant above.